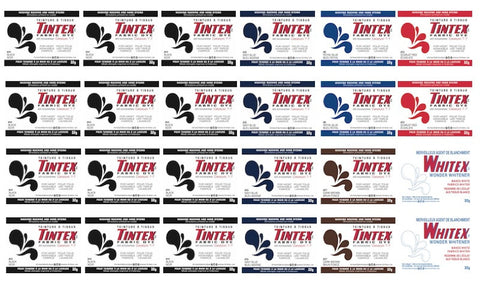 32g Sample Product 24-Pack
LOCATION BASED ORDER MINIMUM: Canada order minimum is $100 (excluding NFLD) & USA minimum is $140 (no delivery to Alaska, Hawaii or Puerto Rico). Orders under the new minimums will not proceed at checkout.
Get 6 classic Tintex products in selected amounts suitable for many of your dyeing projects.  This bulk pack is an online exclusive, but individual 32g boxes are available at Dollar Tree stores. 
Our 32g x 24-pack only includes these items: 12 x Black; 4 x Navy Blue; 2 x Dark Brown; 2 x Scarlet Red; 2 x Royal Blue; 2 x Whitex Wonder Whitener. 
Red dye can be used to make pink; use less red dye for pastel pink and add a small amount of blue (or purple) with the red to make hot pink or magenta. Adjust dye amounts to be more/less as needed and always test your dye colour.
***Whitex is not a 'white dye' (Whitex is designed to make white fabric appear brighter).
WHAT TINTEX CAN DYE: Tintex is NOT for 100% polyester or 100% acrylic fabric/material. Tintex Fabric Dye is a direct dye created for most washable fabrics (example: cotton, linen, silk, nylon, acetate, rayon, wool and viscose). Blends are dyeable if the majority of your fabric is made of a 'suitable fabric' (example: 65% cotton 35% polyester).
PREPARE FABRIC BEFORE: Wash fabric so it is clean & damp before dyeing and for best results always do a fabric test before and adjust amount as needed.
HOW TO MAKE DIFFERENT COLOURS: Darker colours use more dye and you can make pastels with any colour just by using less dye. 
HOW MUCH TO USE: One 32g box will dye 3 T-shirts, two boxes will dye or a pair of pants, use double the usual amount for darker or brighter colours.